Music-On-Hold Devices
These devices are audio playback devices, which are designed to provide a continuous play audio for on-hold messages/music, background music and more.

Bogen Microphones
Microphones come in many difference shapes and sizes and are engineered for accurate sound reproduction with a rugged construction to stand up to the demands of sound installation.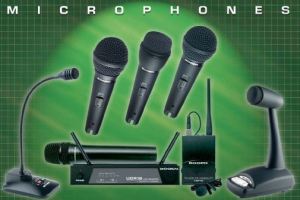 Battery Backup
Battery Backup or uninterruptible power supply (UPS) is a device that is used between the wall outlet and your computer, monitors, server or telecom equipment, basically any technical equipment that needs to be protected from power drops and surges. A Battery Backup is not required to run any of your equipment, but Communication Integrity Group highly recommends UPS units for all of your technical/computing/communications assets to ensure a consistent flow of electricity and prevent damage.
Paging
A paging system can be a cost-effective solution to incorporate into your total communications system package, which can improve productivity and personnel efficiency, allow for background music and increase employee safety and security.